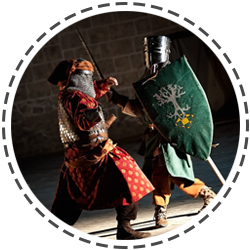 Armed Company Milites Friderici II
Oria's Milites Friderici II Company was founded in 2003 for the will of a group of young high school students who are highly enthusiastic in medieval history and grew up in the charming atmosphere of the Oria Rioni Tournament.
President and founder of the Company is prof. Ennio Suma, who puts at the disposal of the group his long history teacher experience.

Timpanists Nicolaus Barium
The Timpanist Nicolaus Barium™ group was founded in 2001 on the initiative of a priest and some young people from the old city of Bari, with the aim of spreading and preserving Nicholasian cult, promoting knowledge and historical memory through Living History and Historical Re - enactment, to foster the development of musical skills, to protect and enhance our territory.
Trombonieri Borgo Scacciaventi Croce
The "Borgo Scacciaventi-Croce" Historical-Cultural Association has been studying, preserving and handing over the traditions and local historical heritage of Cava de Tirreni (Salerno) for 38 years.
Founded in 1978 as the Trombonieri Association for the will of Antonio Medolla, his son Luigi, his friend Gennaro Falcone and a group of people who are in love with local history and folklore, in 1980 the Group welcomes the Casale Croce among its ranks and takes the final Name of "Borgo Scacciaventi-Croce".
Snake Cricket
The snake cricket is a very ancient art, very popular in the twentieth century when, to promote tourism, governments, especially Indians, even sent them to cultural overseas festivals; Is a wandering profession, originally carried out mainly by nomads, who has always been handed down from father to son.
Today, our friend/collaborator Damiano Di Nunzio seeks to retrace the same footsteps of the proponents of this wonderful art.
Falconers
Falconry is a hunting practice based on the use of hawks or other birds of prey to catch prey, usually other birds. Like other types of hunting, this is nowadays practiced as a hobby rather than by procuring the necessary food for the practitioner's sustenance. Only in recent decades this activity is knowing a great development, especially in Europe and North America.
It was during the Middle Ages that falconry spread on European soil, reaching very interesting developments. Today, our partners Clara and Angelo enrich, with their splendid birds of prey, Federico II's Historical Court and Oria Rions Tournament.